Have you ever thought about multi color kitchen cabinets?
We have! If you live in colorful state like Colorado you might appreciate variety of colors not just outside but in your kitchen too. Sunny Evergreen, Co offers plenty of beautful color outside and we should not limit ourselves with colorless interior.  So why not have more than one cabinet color? How about two or three!!  Yes, we will push this kitchen design and we will incorporate three cabinet colors in this kitchen. Let's see the original kitchen.
Original kitchen and proposed changes.
As you can see the original kitchen could more colors. Multi color kitchen cabinets and some colors on walls will make big difference in this case.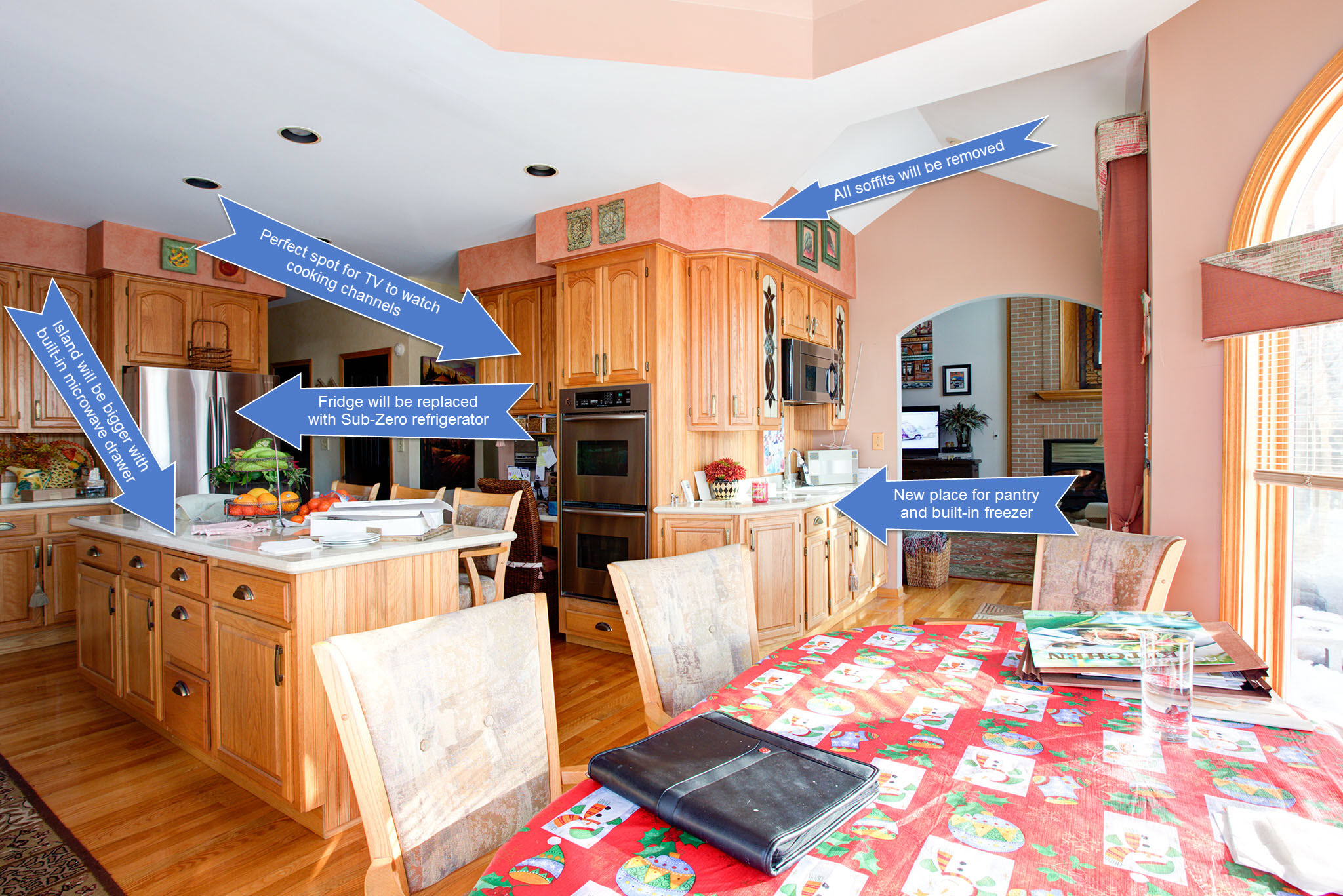 We will do more than just basic kitchen remodeling here.
Scope of work:
We need to remove all soffits to be able to install taller cabinets. Soffits will need to be carefully inspected for any obstacles that could not be moved.
Corner wall with double oven will be transformed to accommodate pantry and build-in freezer on right where microwave is. This section of cabinets will be brown color. On the front we will have sage like color cabinets with TV.
Island will be a little bit bigger and will have microwave drawer built-in in cabinet. Island cabinets will be brown.
Perimeter kitchen cabinets, wall and base cabinets, will be off white color. That's we call multi color kitchen cabinets!
Inside corner with cook top will see new wall. We want to have there Viking professional range with custom built kitchen hood and we need build new wall on 45 degree angle to install these.
Current refrigerator will be replaced with built-in Sub-Zero appliance. Both refrigerator and freezer will have panels to match cabinets.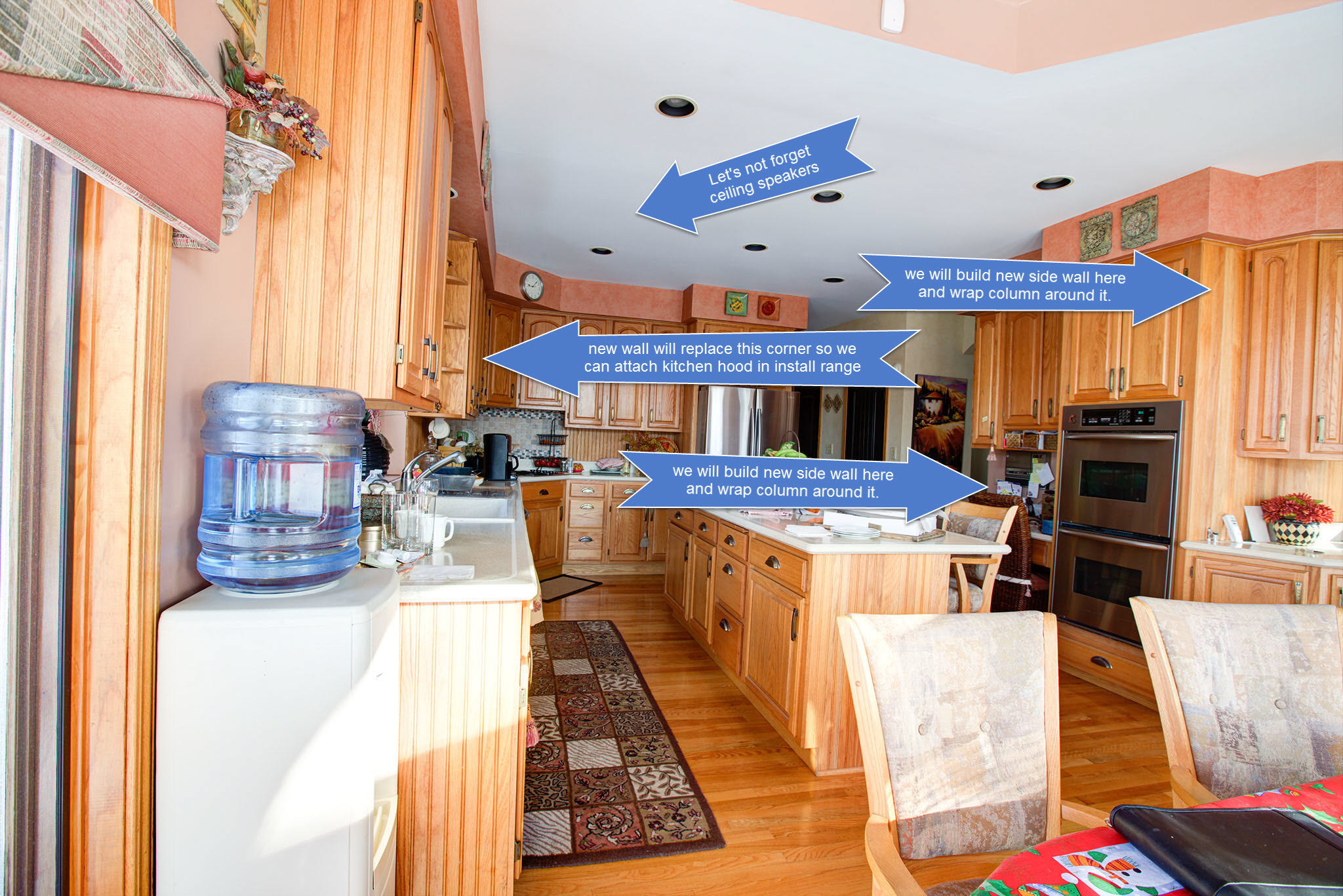 Other things we want to do here:
Wall niche between range and kitchen hood
LED under cabinet lights where possible and in wall niche
Power strips under wall cabinets (no visible outlets in back splash area) and on each end of the island.
TV and sound.  We will have TV mounted on the wall integrated in cabinet and we will install new ceiling speakers.
All of the above will require some major structural, electrical and plumbing changes. Fortunately Beyond Remodeling Inc. can do all these changes. Best part of it is that you will deal with one person. Just give Charles call at 815-200-8558 or contact us using form here.
Are you ready to see how multi color kitchen cabinets look like all together?
We thing they look great! On this picture you see Sub-Zero refrigerator.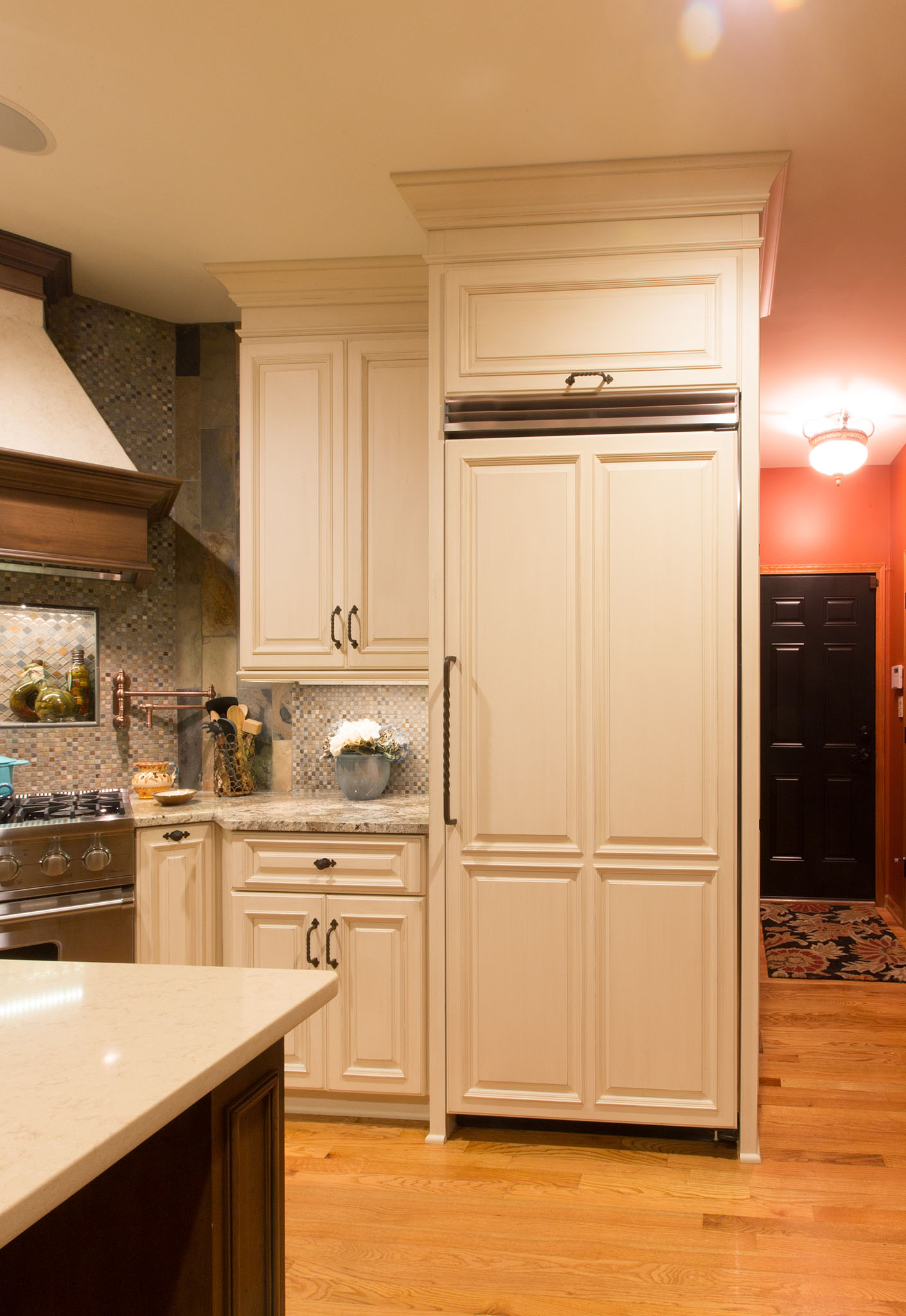 We have used slate tile for back splash area and around the kitchen hood. Glass mosaic was used inside wall niche.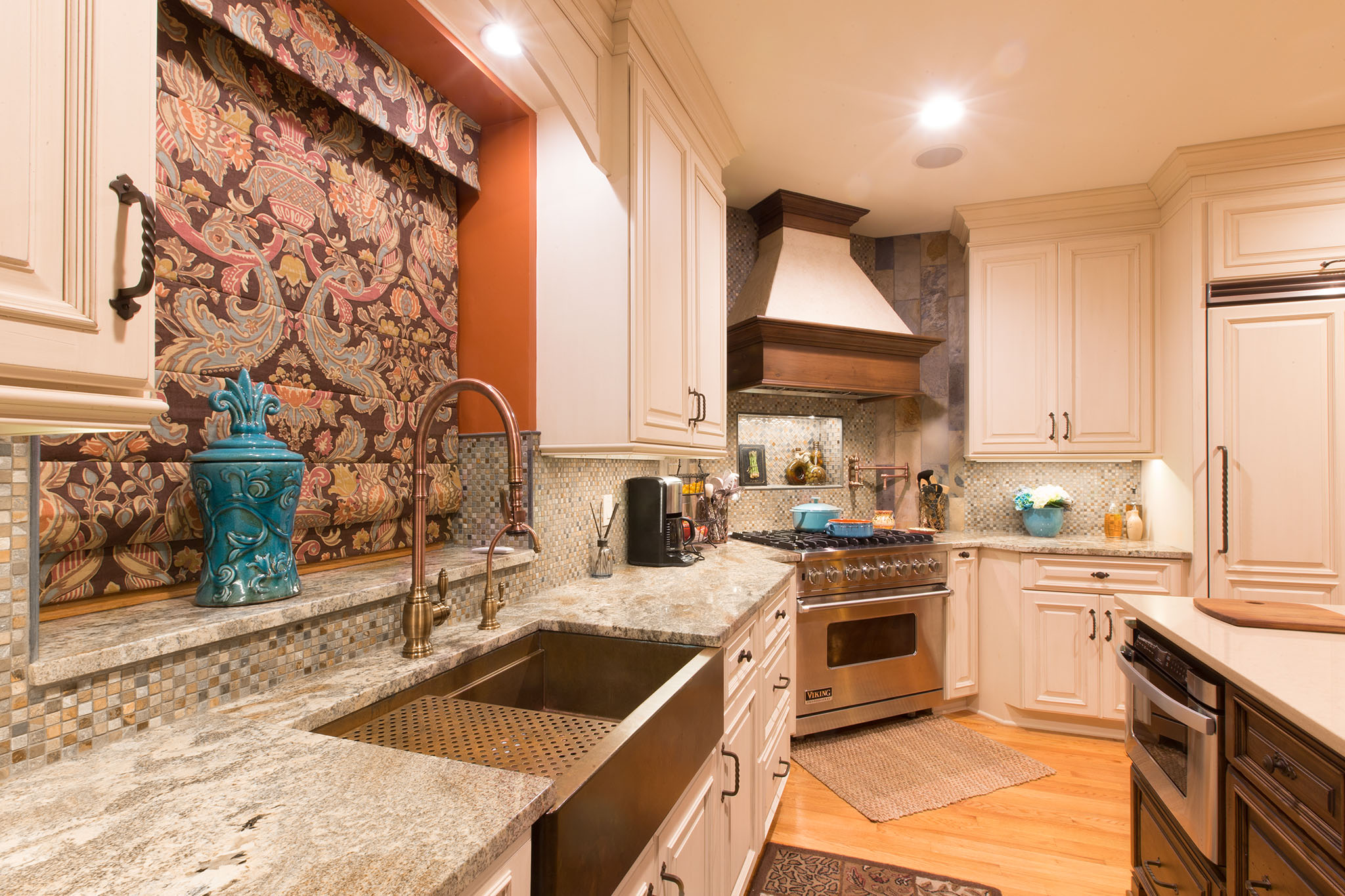 To make cooking even more enjoyable, the customer picked Viking professional series range. From this angle you can actually see power strip under the wall cabinet. You have 5 outlets just under one cabinet! Isn't that great?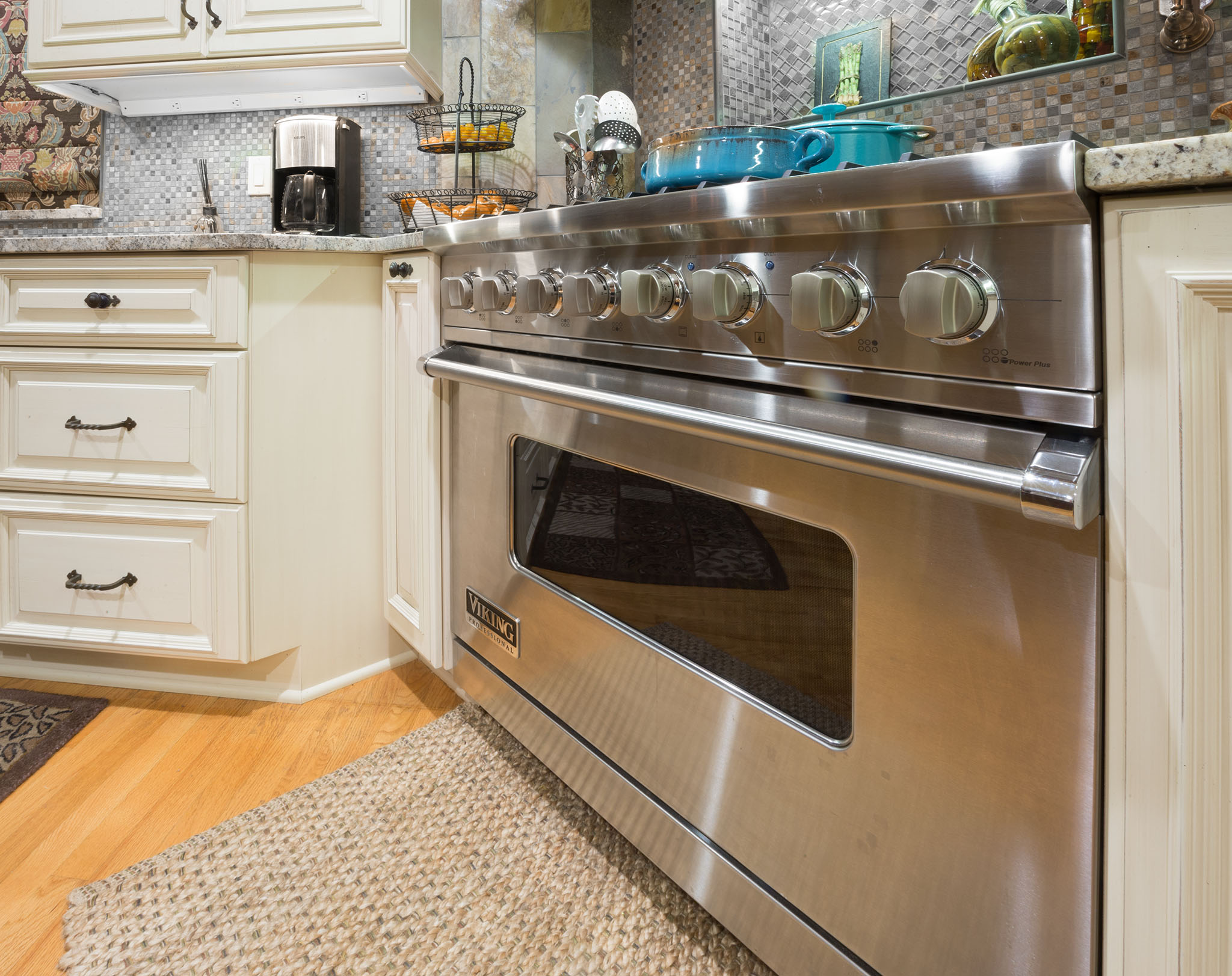 On following picture you can see (or can you?) freezer on the right and pantry cabinet on the left. Wall on the left with column is new wall. Multi color kitchen cabinets –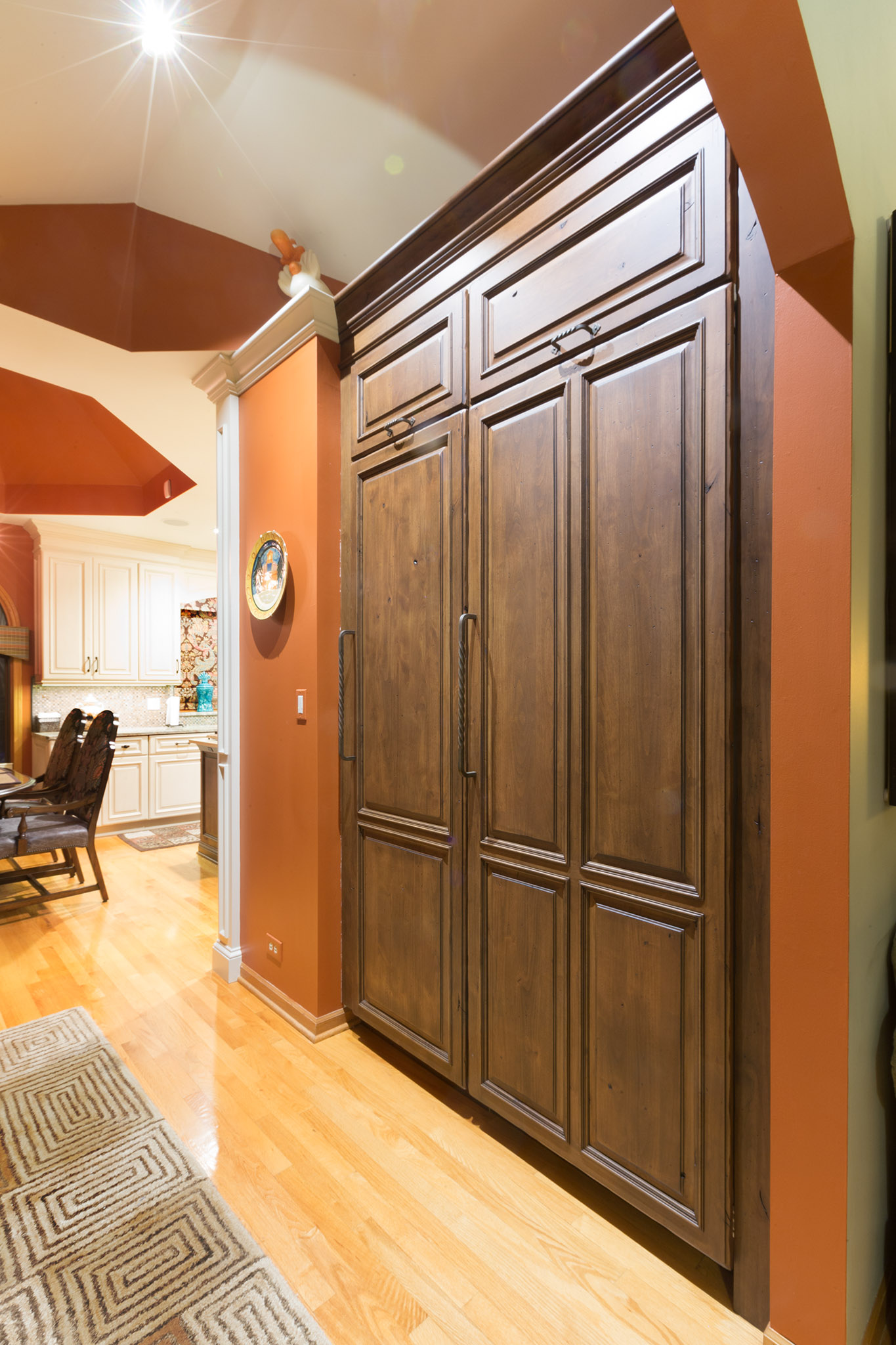 To keep some business home, we have ordered made to order copper sink from USA manufacturer. Over-sized kitchen faucet and R.O. are also supplied from same company to compliment the sink.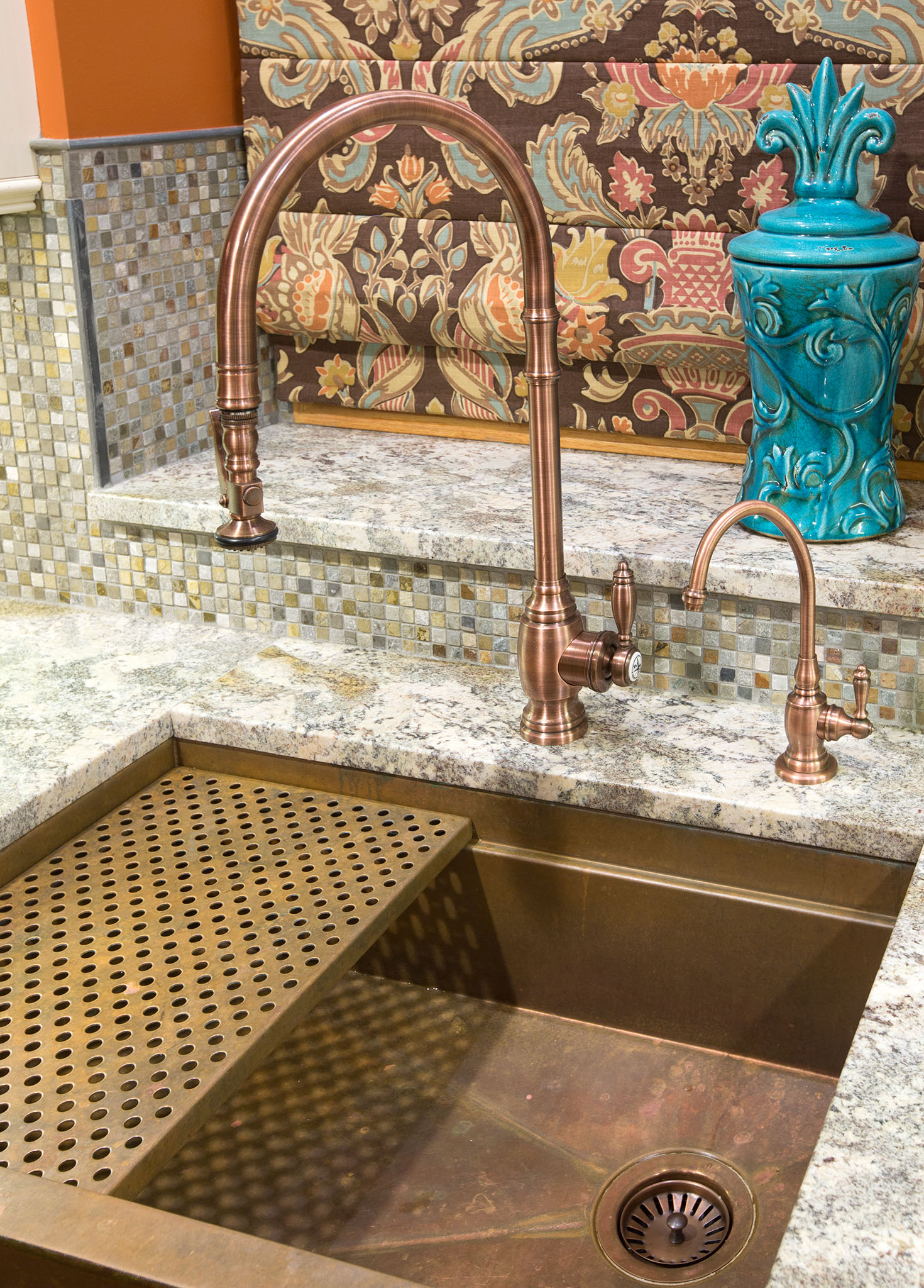 Built-in microwave drawer is much more convenient that original one way up high. You can see distressed finish on cabinets if you look carefully. This style is on all cabinets regardless of color.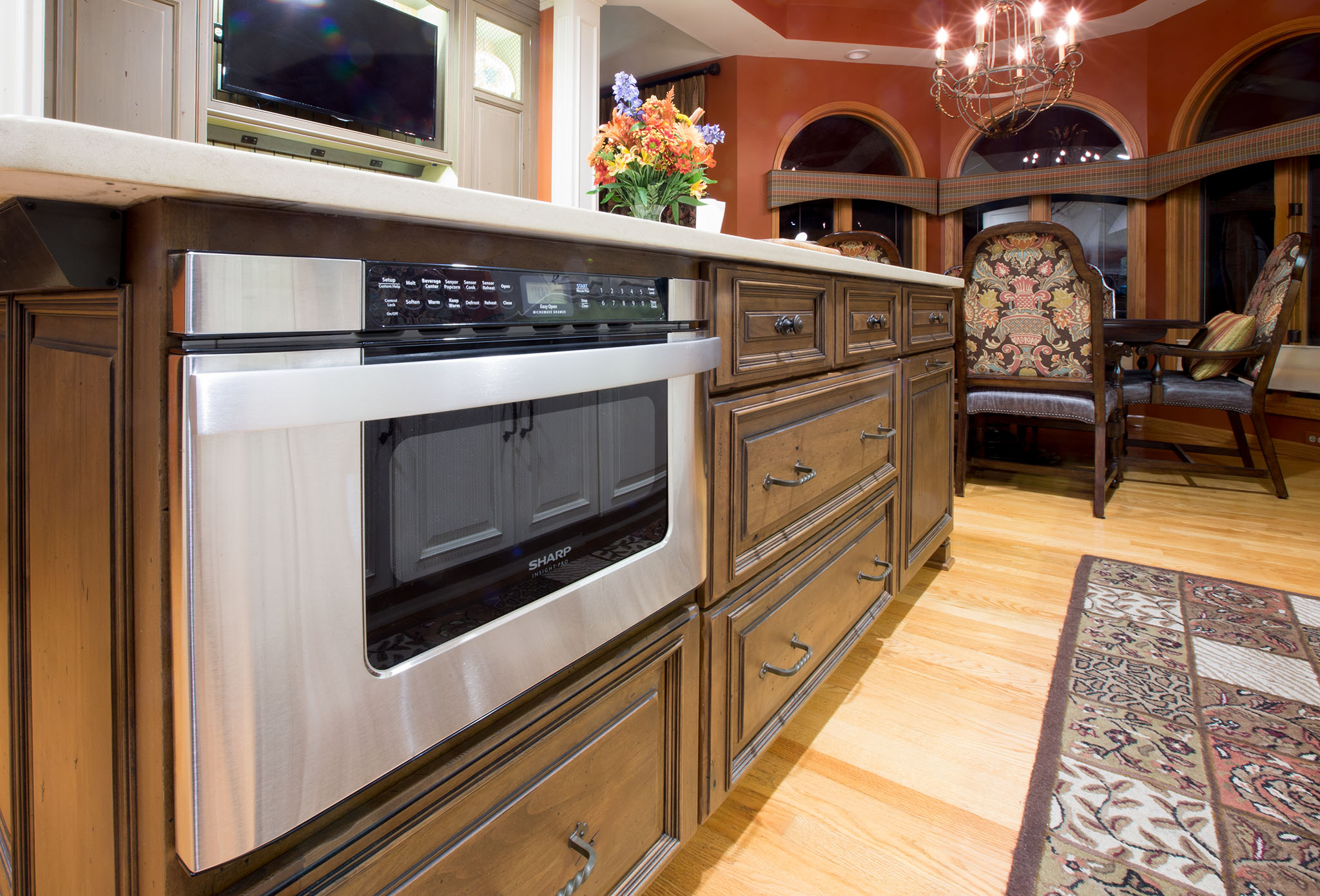 Here we have new wall we needed to build in the corner. Custom build kitchen hood is nice feature and blends in beautifully with rest of the kitchen. It has plenty of power to work well with professional range.  We have also incorporated pot filler in design for convenience.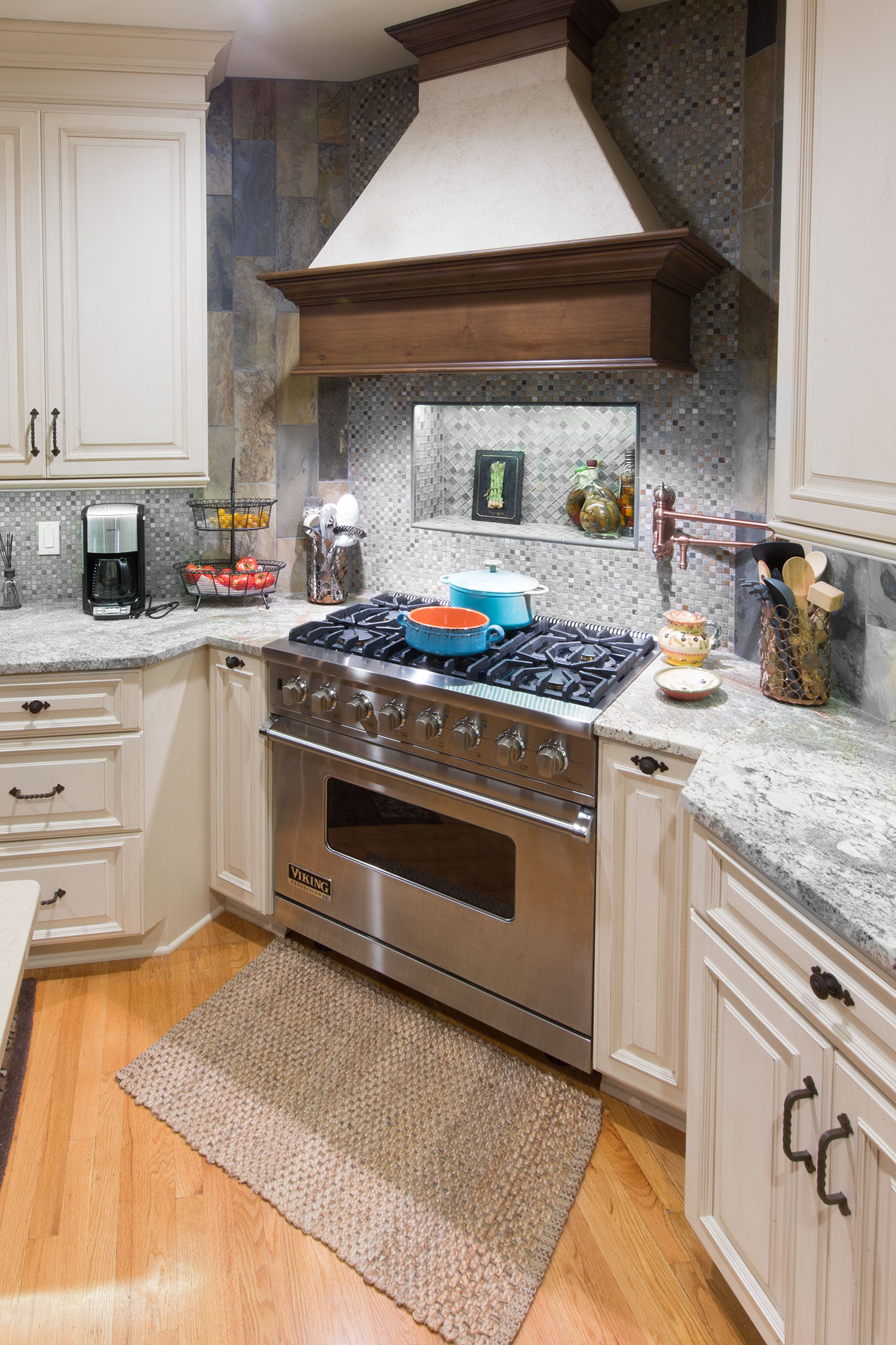 Do you see anything unusual here? Look at the base cabinets. Left side from the sink. Door is missing pull and drawer has pull instead of knob?  Good catch! It's actually on purpose that way. What appears to be a drawer and a door is actually one piece panel that covers dishwasher door.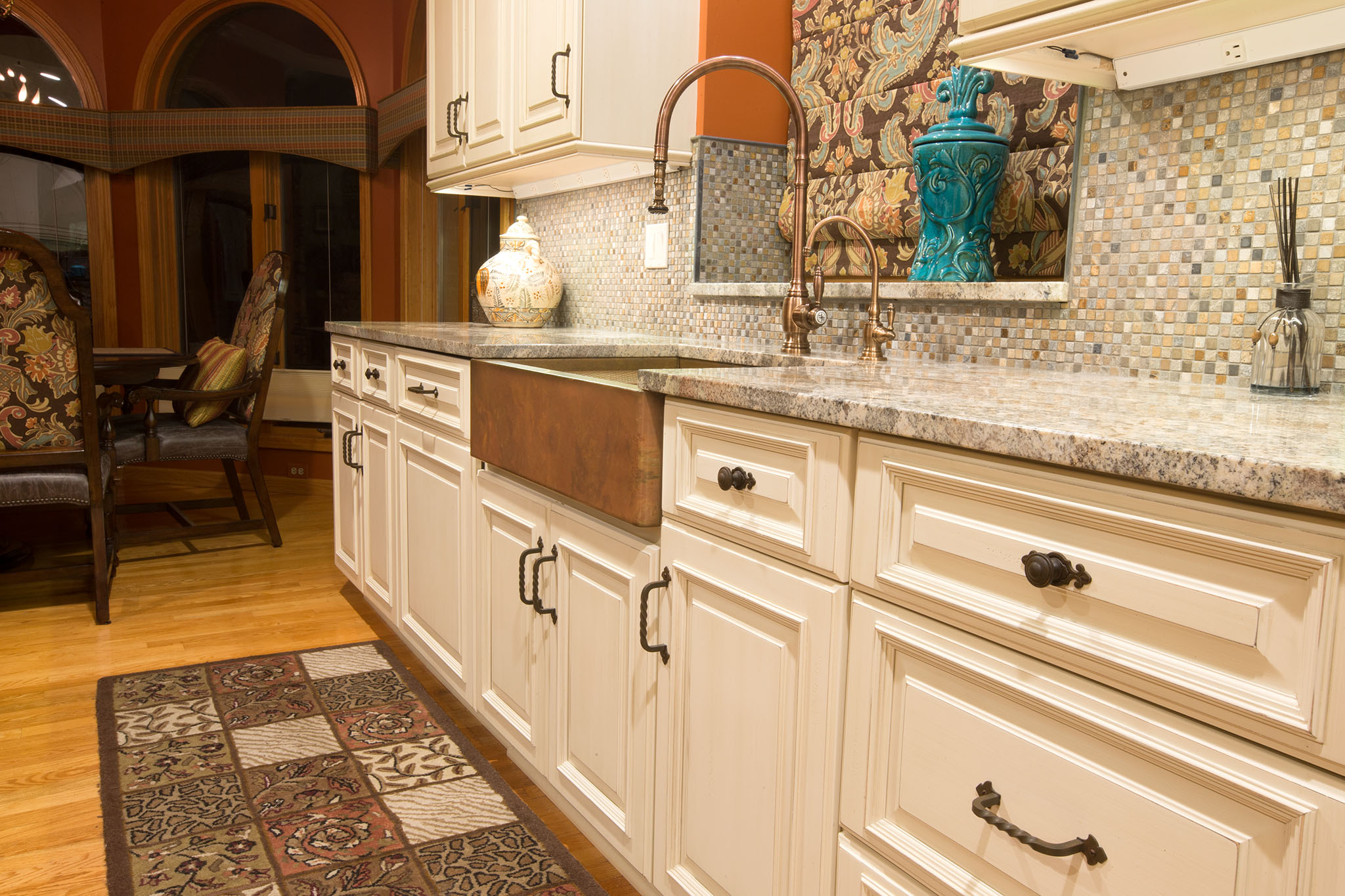 Unfortunately this picture doesn't do justice to beauty of the sink. It's not just plain copper. It has multiple colors that were hand painted to customer's desire. Special top coat to protect the finish was applied after colors were approved by the customer.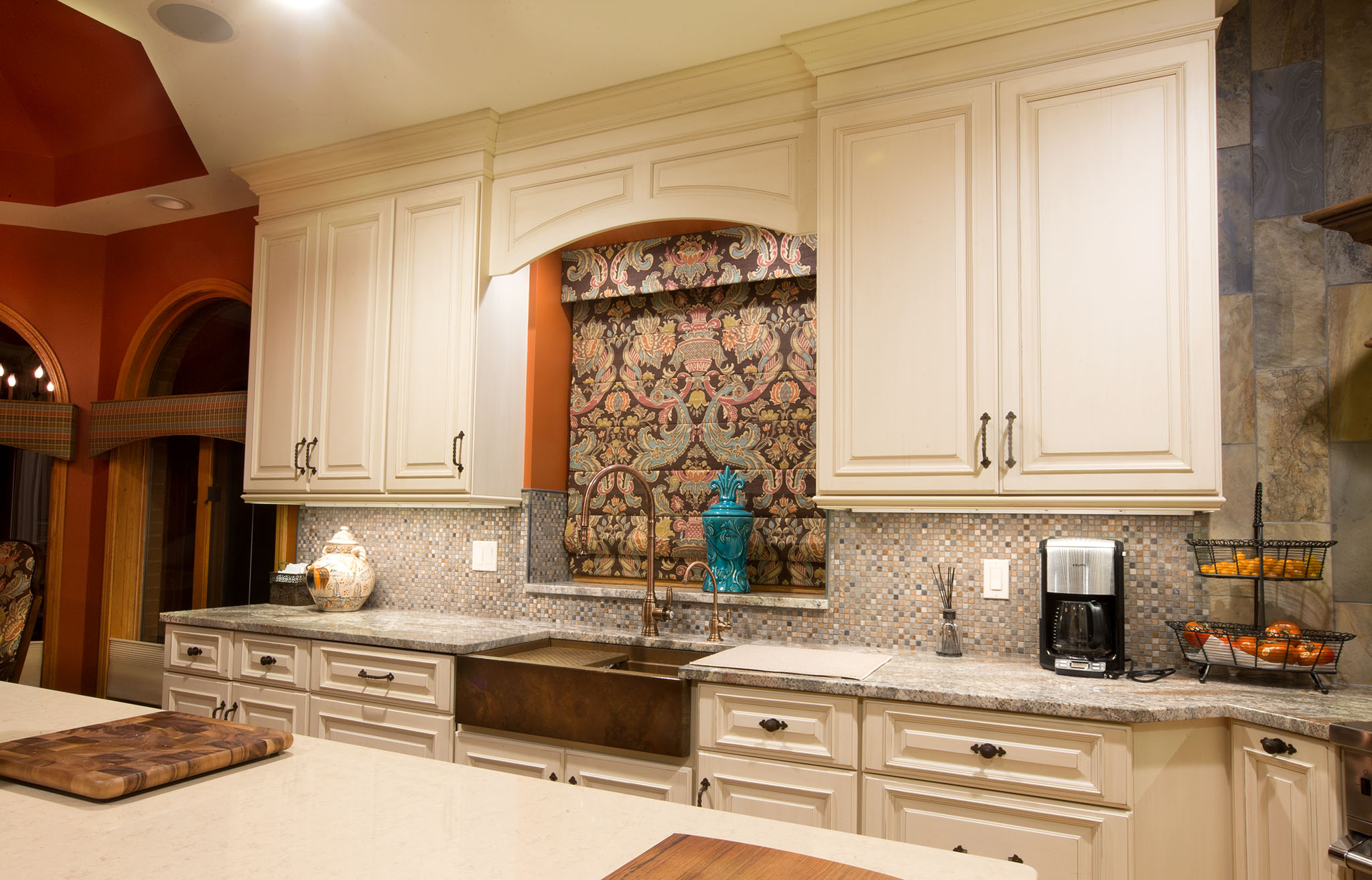 Say hello to our frog friend.  🙂  He definitely likes new island and so do we.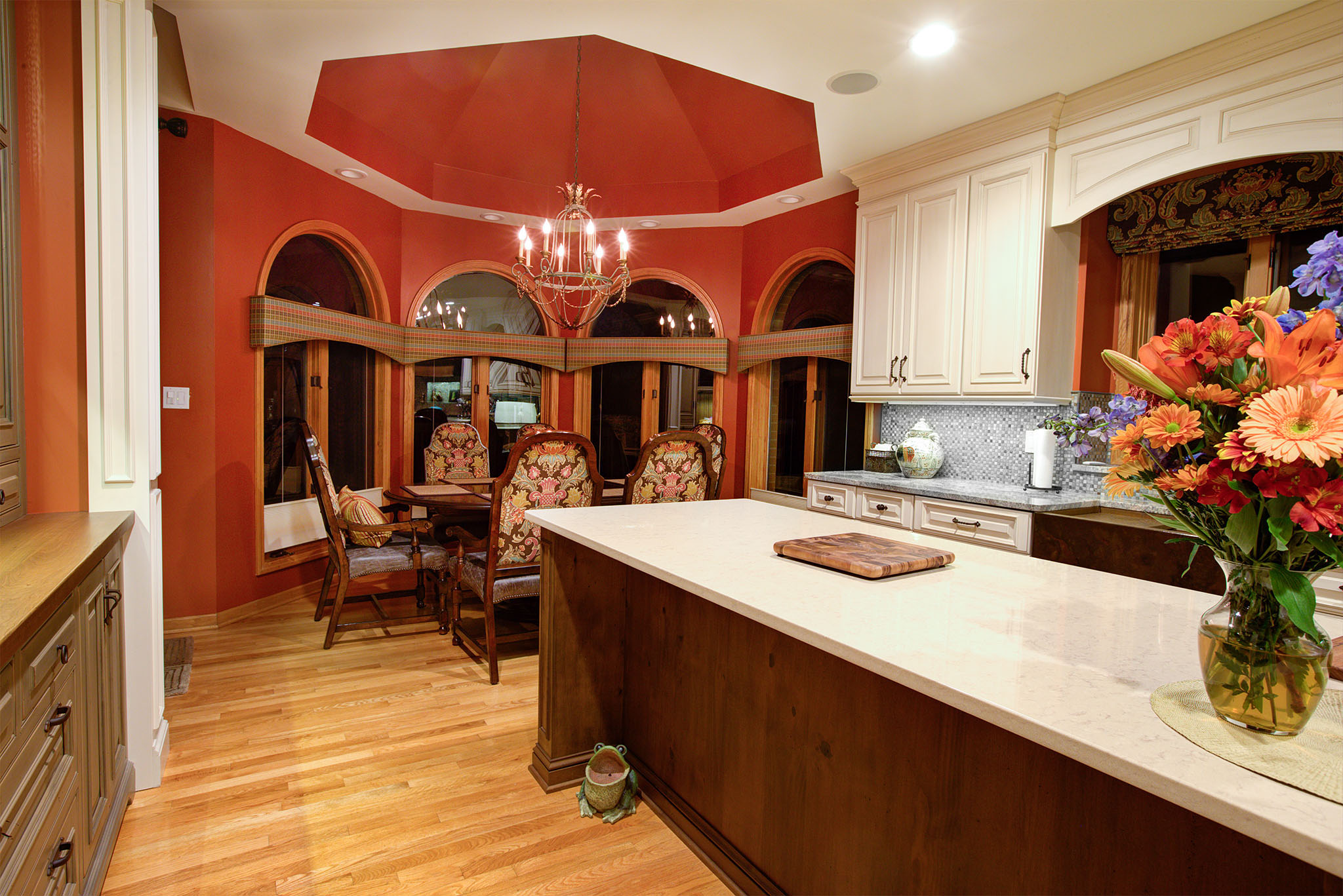 Alone in the kitchen? No worries. Turn TV on and watch cooking channel for more inspiration, your favorite show or just listen to music.