So is it worth to expand kitchen into dining room? I would say yes if there is good reason behind it.
This was one of the more extensive kitchen remodels with huge impact on final layout. Original kitchen was somewhat small and definitely outdated.
So why do we want to expand kitchen into dining room? The idea for this remodeling project was to open up the space so it would function more like  an informal social gathering place during family visits and holidays. Kitchen is not just room for cooking anymore. Often people will like to talk and socialize during meal preparation. People like to watch and communicate even if they are not  cooking.  We will make few changes to this kitchen to help achieve this goal.
As you can see it's just average kitchen, outdated white cabinets,pantry behind the trash can. It will open up the space nicely when we expand kitchen into dining room.
Doorway by the range leads to formal dinning room. Bellow you can see dinning room wall that we will remove to open up the space.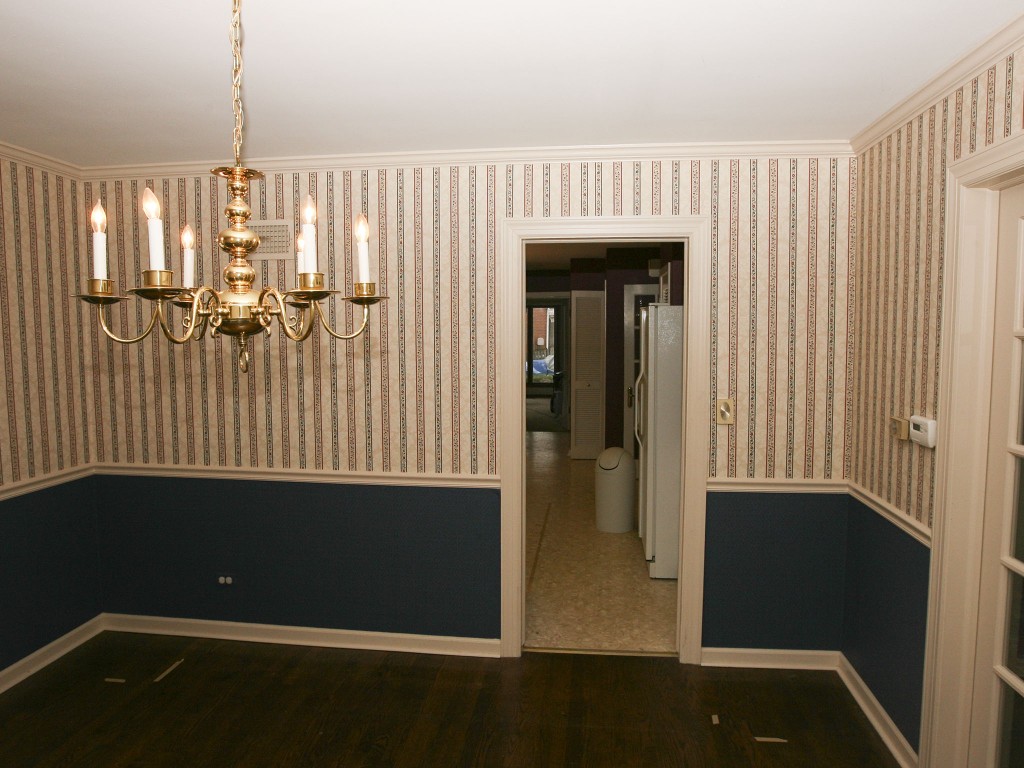 So what can we do to improve this kitchen?  Here is the plan.
Let's make the kitchen visually larger by removing common wall between the kitchen and the dinning room.  That will open the room and will look great.
Let's remove those soffits so we can install taller wall cabinets. That will give us a little bit more storage space and we can finish it with nice crown molding against ceiling.
Pantry will be removed as it really doesn't do any good designwise.
We will make some room for new kitchen island.
Kitchen demolition – can be fun and scary at the same time. This part goes fairly quickly and changes are obvious withing few hours. Bad part is dust and unexpected surprises that can be exposed while re-moving walls.  In our case it will we common wall between kitchen and dinning and pantry.  We can do a lot to prevent dust spreading in the house. You can see sealed windows and doorways.   We will have to deal with surprises in walls as we discover them.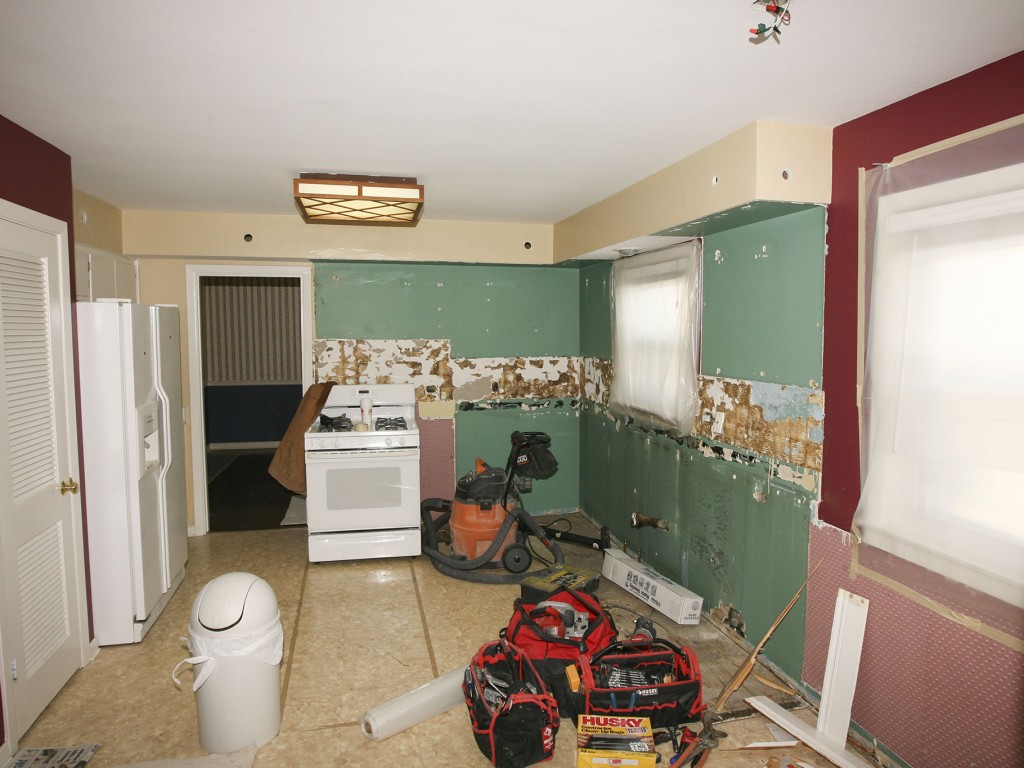 Hurrah!  The wall is gone. Just look at the space now. What a difference!  I know, it looks like disaster but it can look only better from this point.  🙂
There is a lot of work tat will need to be done. All electrical conduit will need to be eliminated, switches moved. We will need new 220V  electrical circuit for double oven. All power for the kitchen was supplied from basement within wall we have just removed. That means I will have to re-route all wiring for the kitchen.
I will also have to move water supply lines for second floor that I discovered in pantry walls.  Oh well, it's hard to see inside of the wall.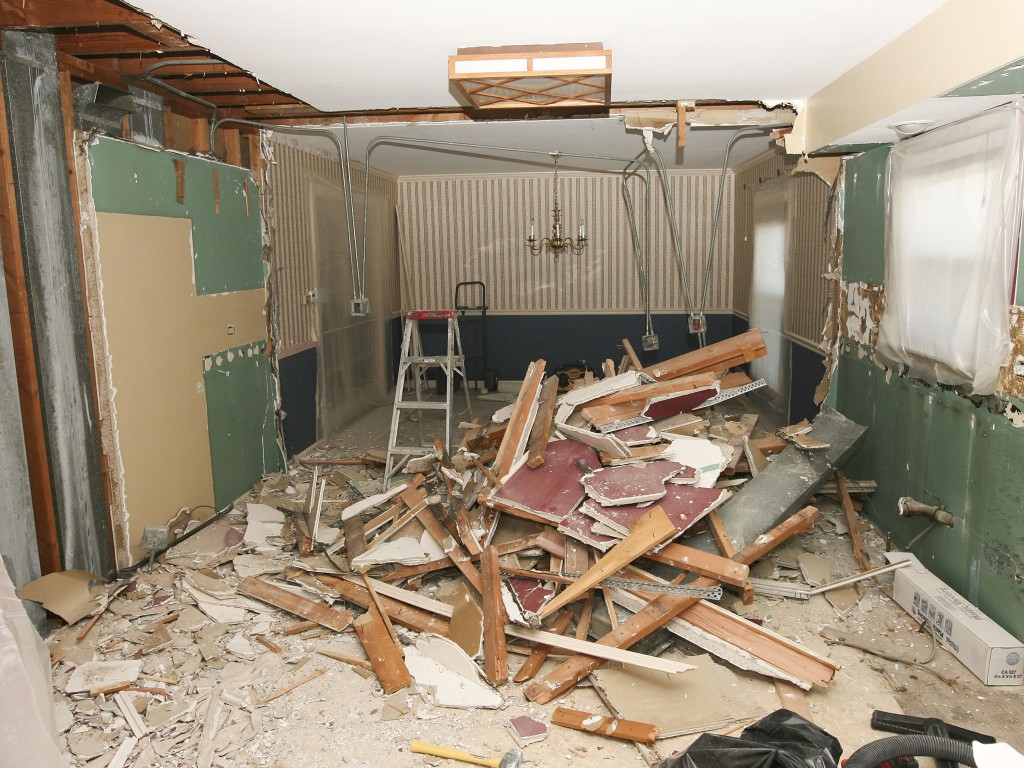 I know, this looks so much better already!
OK, so what just happened?
Old vinyl floor is gone and replaced with hardwood floor. Once refinished it will be one seamless floor.
All electrical work is done. Switched from the old wall moved to new locations, recessed lights installed, 220V line is in place, el. boxed for pendant light are in place.
Drywall installed as needed.
Water supply pipes moved inside the wall from old pantry wall.
It's time to repair walls, plaster, tape and get everything ready for painting before I start installing cabinets.
Also to expand kitchen into dining room means installation of new hardwood floor in dinning room and refinishing the floor in the kitchen.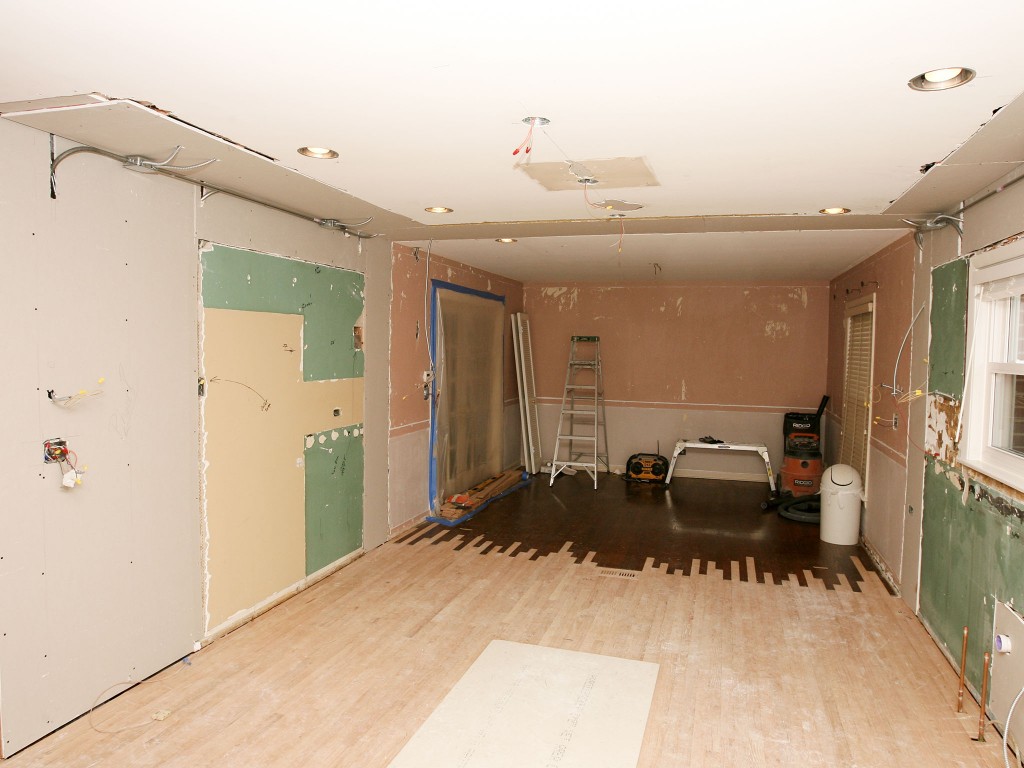 CABINETS!!! Yes…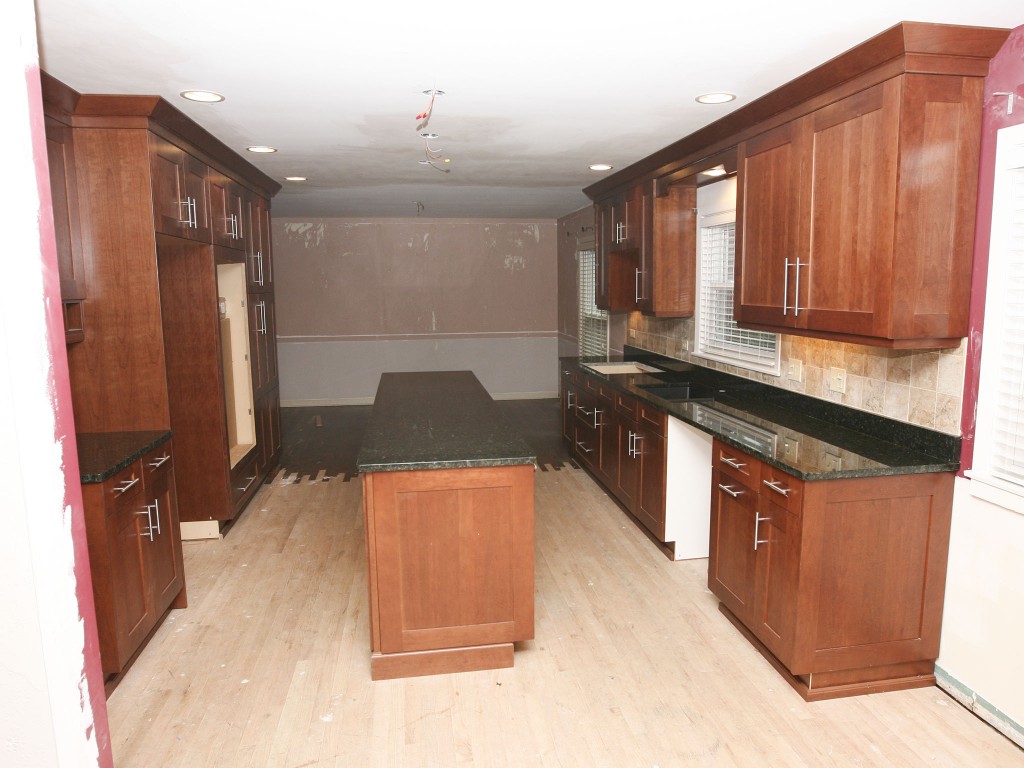 This is always exciting part. Cabinets, counter top and back splash. I am almost done with all of them. We have just few things left to finish.
refinishing of the floor
appliances
fixtures
new baseboards
Lets see how it looks like when it's all finished. If you want to see more pictures from this project click here.
Is was not simple task to expand this kitchen into dining room but it was worth it!